Steps to terminating a farm tenant
If you are thinking of selling farmland in Iowa in the upcoming year, it's best to terminate your farm tenant now! This is because when the farm trades hands after selling, the new owner will now have rights to the next year's crop. As long if the farm lease has been terminated properly. You can still sell farmland with a tenant. However, it is typically more appealing to farmland buyers if there is not a tenant the year they take possession of the farm. I can help you structure your land auction to provide rent credits and possession rights to the high bidder if you decide to sell during next year's crop season with a tenant. Follow these easy steps to terminate a farm tenant in Iowa. If you have any questions email me at rachel@dreamdirt.com.
Be aware of September 1st Deadline!
In Iowa, as a landowner you have to give notice to your farm tenant that you are terminating the lease on or before September 1st of the current year. You can either serve the termination by certified mail or in-person directly to the tenant.
Print this Farm Lease Termination Letter from Iowa State Extension to terminate farm tenant
Click on the photo to open pdf document of this farm tenancy termination notice letter. Fill out respected fields and sign.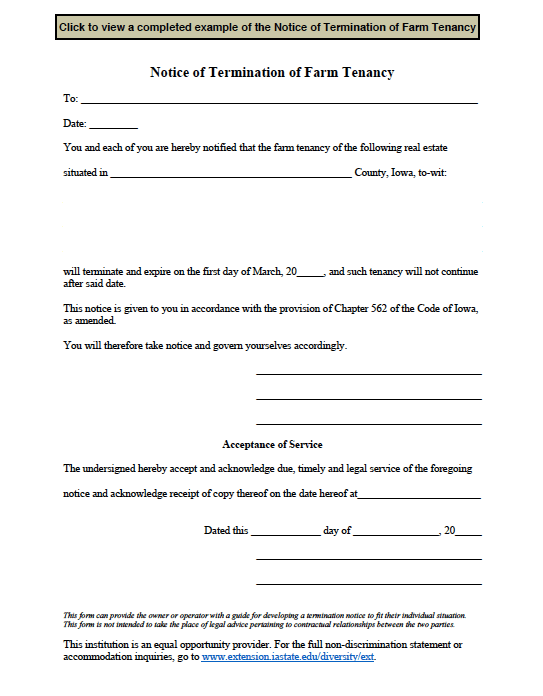 Mail the letter to current farm tenant through certified mail
Keep your receipt from post office showing proof that you sent by certified mail
Farm Tenancy will end the following March 1st
If you do not meet the September 1st deadline, the farm lease will automatically re-new under the same conditions and terms of your current lease. Once termination has been given on or before September 1st, the tenant will have tenancy possession till March 1st.
Next steps for selling farmland in Iowa
Are you thinking of selling farmland in Iowa? Fill out my questionnaire and get started on learning how to sell your land today!
Get a Free Market Analysis