I have a ton of topics running through my head currently about farm real estate. So here's a brain dump on this COLD Iowa winter day!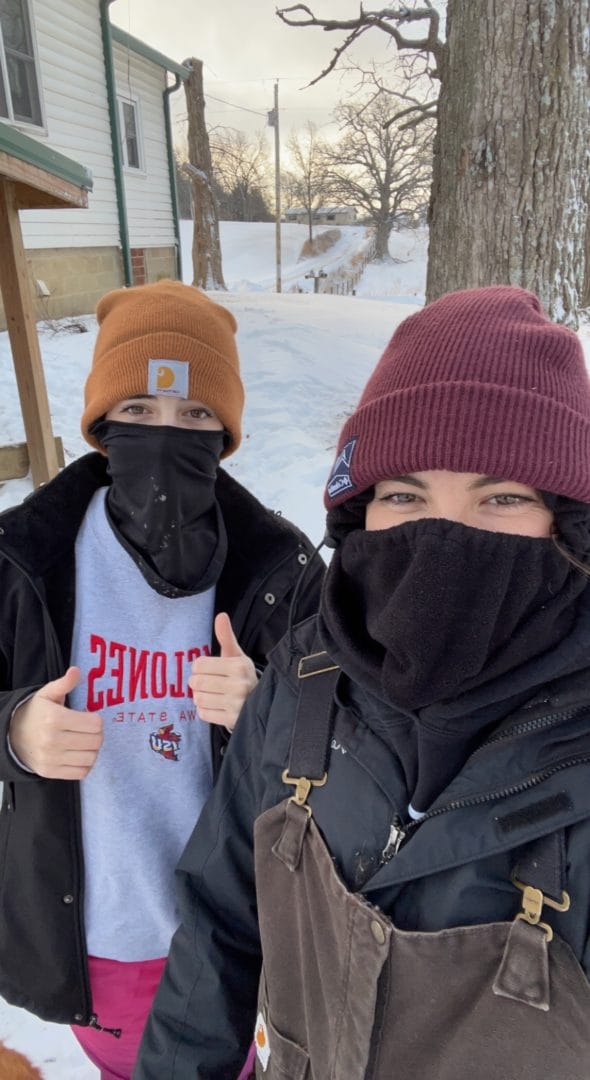 Banana Bread Muffins and Walnuts from Grandma's Farm
Okay first, I just have to start by sharing that I made banana bread muffins the other night. Since I had ripe bananas. As I was eating one this morning, the muffin reminded me of when I would make banana bread with my mom when I was little and how my grandma would always pick her own walnuts off the farm! There was something so heart warming about this and of course delicious! Does anyone else have memories linked to objects or things like this? It's crazy how just a muffin can trigger such emotion!
Who Will You Trust To Sell Your Farm?
My broker (and boss) Jason, shared this video with me recently. It really made us think about what makes a person hire a certain land company to sell their farm. Is it the so called performance statistics that draws sellers to hiring a certain auction company or listing agent? Such as number of acres sold, dollars sold, number of clients served, and claiming to be the leading farm real estate auctioneer or agent business?
Or do sellers look for someone who they can trust? Someone who has the qualities, knowledge, and tools to guide them to a successful sale. Even though that auctioneer or agent might not be the "top dog?" Here's the video for reference:
Farm Real Estate
For someone that started in the farm real estate business just a few years ago, I often compare myself to the "top dogs". Ones that have sold thousands of acres, millions of dollars, and always seem to be having a new auction. The scary thing though is that the auction business in Iowa is not regulated. It may surprise you but there are no licensing laws to becoming an auctioneer. Anyone in Iowa can wake up and say, "I'd like to be an auctioneer". However, there are laws and licensing requirements to being a realtor in Iowa.
Are You the Seller the Number One Priority or is the Buyer?
From someone who works in this industry, I'm warning you that there are some high performers that are very un-trustworthy. Just like the video pointed out above. When it comes to selling your most valuable asset, make sure you're hiring someone who can back up their statistics, provide evidence, and hire someone who's full interest is helping you as a seller. There are some sneaky deals that have happened with other Iowa land companies. For example, I've seen deals where a buyer benefits more from the sale than the seller. This happens more than you think. At DreamDirt though, sellers are our number one priority. We are here to provide you a safe, stress and worry-free farm sale. While achieving the highest result for you farm auction or listing!
Auctioneer School
I've taken all the classes and tests to be a salesperson (realtor) in Iowa. Currently, I'm working on becoming a broker as well! This helps serve my auction clients since I have the knowledge of real estate law that many auctioneers who are not licensed real estate agents do not have! In March, I'll start my second year of CAI (Certified Auctioneer Institute) school. This 3 year program is a pristine designation for auctioneers that want to learn more about the auction industry. Even though it's not required by law.
Full-time Farm Real Estate Auctioneer and Agent
Along with all the continued education classes I've taken, I honestly learn something new every single day by working closely with the DeamDirt team. My full-time job is farm real estate. Many other auctioneers and agents only help clients as a side hustle or part-time job on their free time. I'm involved in farmland transactions, advertising, client calls, customer help, and more all day – every day! One of my first farmland auctions was back home in Dallas County, IA. Just down the road from where I grew up in Adel. The client was a mutual friend. They put a lot of trust into me being a young professional in this industry. Her testimonial still means the world to me!
"Thank you Rachel Hoy. We have been friends with Rachel for several years and don't let her age fool you, she knows her stuff and is a true professional. We appreciate all her help from start to finish." – Mandi Orman, Dallas County, IA
You Never Know Who's Watching You
I received a message the other night from someone I went to Iowa State saying she had inherited land with other co-heirs and had been following me since I started after college in 2018. Honestly, I was a little surprised to see her message since I often don't get a whole lot of feedback on my facebook posts, blogs, or some videos. She said she had read my most recent blog about 6 easy steps to selling farmland and that made me so excited! I have a ton of great free resources for anyone interested in selling land in Iowa and want to help as much as possible! I love answering questions from my clients and sharing how I can help them through the land seller journey.
I spend a lot of time on TikTok. Probably more than I want to admit but it's a great place to learn about topics you're interested in. Lately I've been sharing videos about recent farmland sales in Iowa and average per acre prices for the 99 counties in Iowa. I'm trying to provide valuable content that can help someone better understand the farmland selling process and the farmland market in Iowa. With a little entertainment here and there showing my background of growing up on a farm in the mix!
If you're thinking of selling farmland, now is a great time of year to do so! To get started, fill out my contact form below or click here.
Get a Free Market Analysis