Tuesday, January 4th
Woke up to another beautiful sunrise in the farm and thought, "it's only TUESDAY?". This is going to be a long week. Then I remembered that I enjoy what I do during the day and it doesn't have to feel like work. I get to be myself with my job at DreamDirt. Having a flexible schedule is rewarding and I can structure my days how I'd like to accomplish tasks. Yesterday, as a farmland auctioneer and land agent, I wrote a blog about what I think the farmland market will look like in 2022. You can click here if you'd like to read it.
The blog took me a majority of the morning. It's full of great information about whether or not to sell farmland this coming year while prices are still record breaking high. Took a quick lunch break with Dad and enjoyed some pizza from Casey's (yes, pineapple does belong on pizza). After lunch, I looked up some names of agriculture attorneys in Iowa that we would like to partner with this year. We are looking to help their clients sell land by auction or listing with our services if needed. Fill out this form to contact me about selling farmland.
Farmland Seller Course
I also worked on editing a video. I recorded a short video about auctions versus listings for my new Farmland Seller Course. Which I hope to release soon! There will be about 10 videos with secrets, tips, and a ton of great information for anyone thinking of selling land! I hope my videos will be helpful for those that enjoy listening or watching videos instead of reading blogs. I tried to keep the videos as short and concise as possible. The majority are only a few minutes long! I address common questions I hear and topics you should understand as a land owner in the videos.
Feeding Cattle on Family Farm During Iowa Winter
Our cows were out of hay already from the bale we gave them Friday. I helped Dad give them another big bale yesterday while it was warm enough for the tractor to start. It made me nervous when I saw the tractor start sliding down the hill on the snow and ice and hoped it wasn't going to flip over with my Dad in it. Thankfully, it didn't and he said, "I think it needs new tires". Yes Dad, please don't ever scare me like that again and buy some new tires for snow and ice. Here's a Tik-Tok video of how giving the cows a new bale of hay went!
Iowa Farmland Prices per County
I finished out the work day making a list of what I'd like to accomplish this week. I am going to work on making more short videos about farmland prices in Iowa per county. I've already started on a few and want to cover all 99 counties!
Hoy Family Farm History
Last night, Dad and I talked more about family history especially on the Hoy side. We were looking through old pictures of my great-grandpa's family. All the pictures are in black and white and from the early 1900's. I found out the my great-grandpa Edward Hoy was born in Pennsylvania and moved to Iowa when he was three. He grew up on a farm and went to Iowa State University for college and study agriculture – just like me!
Redfield, IA Farm
In the 1940's is when my great-grandpa bought the farm in Redfield. It was so cool seeing all the old photos of what our farm looked like back then and the equipment they used and livestock they had. Horses, pigs, and shorthorn cattle all on this farm we still have today. One old barn from the photos is no longer standing. I could make out the majority of our farm in the pictures. My great-grandpa Ed sold the farm to my grandpa Howard Hoy who was the youngest child after he got back home from service. My grandma, Pat Hoy grew up in Earlham, IA and she worked right along with my grandpa running the farm. They were married in 1958 and had my Dad in May 1960 and four years later had my Uncle Tom.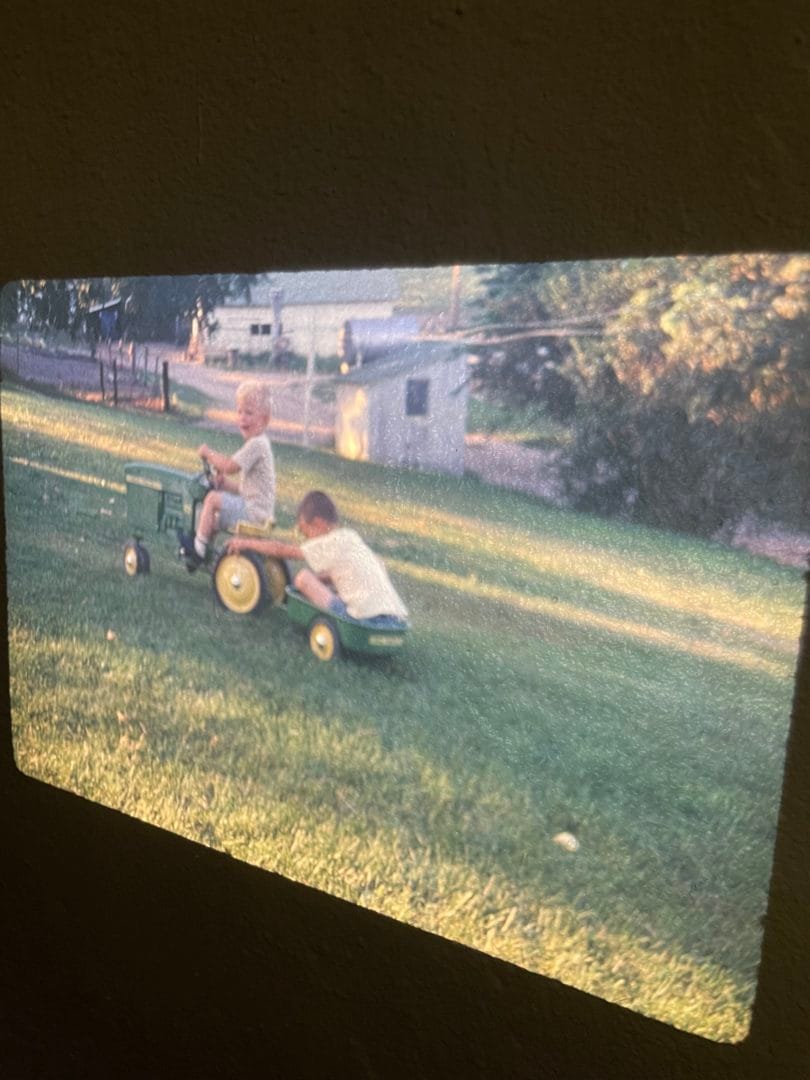 Looking at the old photos made my dad remember that they used to have an old projector that would show slides of pictures. We dug through the attic and found it! I've never seen one in my life. It's an argus 300 projector and the photos we looked through were when my dad was only a few years old. My favorite picture is this one of my Dad and uncle in the yard with a John Deere pedal tractor and wagon which we still have! These types of pictures are so special to me since I was never able to meet my uncle Tom. He sadly passed away in a car accident when he was 20. I'm just now learning more about who he was and what he liked to do.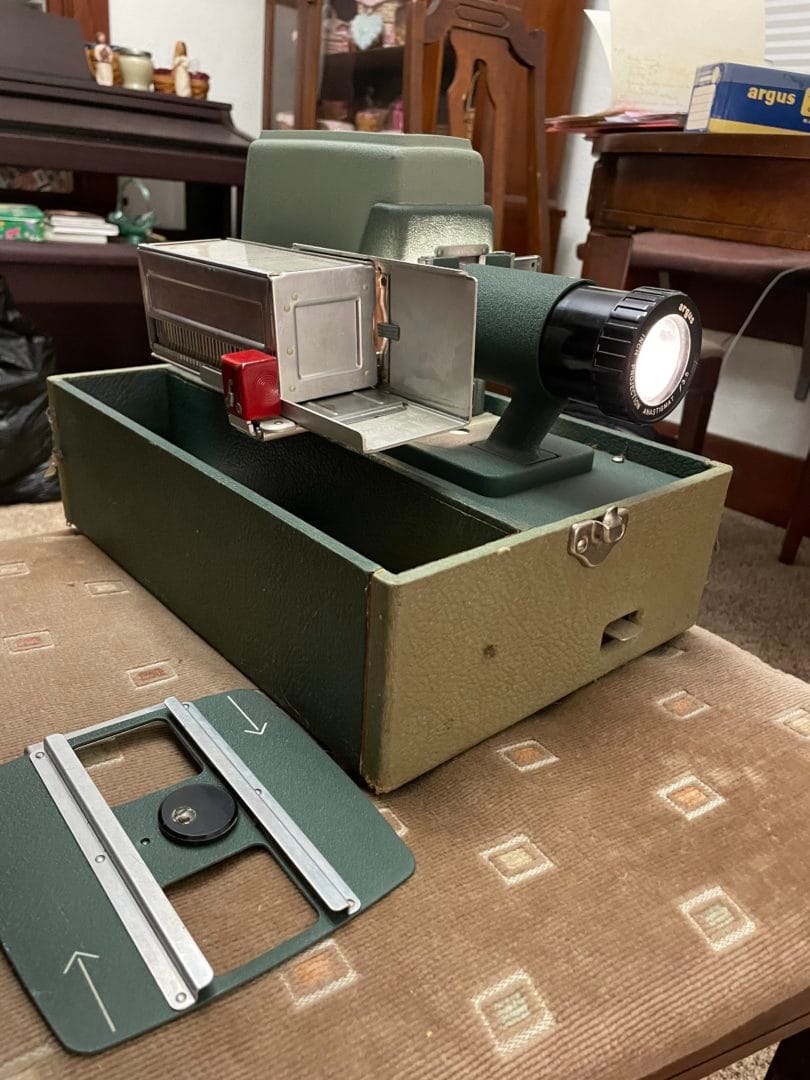 There's more slides of pictures that we'll have to dig through and find in the attic. Learning about my family's farm has been so intriguing and I want to continue raising cattle and growing crops for as long as I can and hopefully see the farm become a century farm!
May you have a blessed Tuesday and stay tuned for more!
Rachel
Get a Free Market Analysis